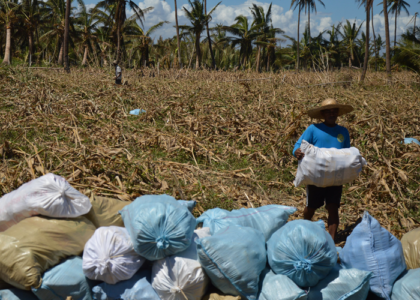 Weathering the storm: root and tuber crops boost climate resilience
June 3, 2022
As climate change advances, extreme weather events are becoming more frequent, and they pose a major threat to poor smallholder farmers who produce most of the food in the tropics. The good news is that some crops and varieties can increase farmer resilience and help them bounce back from climatic shocks.
Research in the Philippines published in the International Journal of Disaster Risk Reduction examines how root crops – particularly sweetpotato and cassava – helped vulnerable households cope with the destruction and recovery from super-typhoon Mangkhut (a.k.a. Ompong), which tore across Luzon Island in September 2018. The super-typhoon's 200 km-per-hour winds and massive rainfall caused flooding, landslides and other damage, killing 82 people, destroying thousands of homes and affecting more than 600,000 hectares of farmland.
Scientists conducted a survey of 423 households in the Cordillera Administrative Region, a mountainous area of northern Luzon that was severely impacted by Mangkhut, and where the root crops sweetpotato, cassava and taro are widely cultivated. They found that while the typhoon's wind and rain damaged most of the region's rice, banana and maize, root and tuber crops fared much better with just 8% and 15% yield loss in affected sweetpotato and cassava plots, respectively, compared to about 50% for maize and rice and 77% for banana. The authors noted that because root and tuber crops are more resistant to storm damage than other crops, they reduced farmers' need to resort to negative coping strategies such as cutting food consumption, spending savings, borrowing money, or moving to another area, which vulnerable households often must do following natural disasters.
"One of the key messages of the study is that crop choice, in particular root and tuber crops, should be considered as an important resilience factor for households in areas prone to extreme climatic events," says Marcel Gatto, an agricultural economist with the International Potato Center (CIP) and lead author of the study.
According to Gatto, survey respondents reported eating more sweetpotato and cassava than they would have normally, and about 50-60% reported that they planted sweetpotato and cassava following the storm. Because many sweetpotato varieties are ready to harvest within 90-100 days of planting, the crop has been used to help farmers recover from extreme weather events across the tropics, such as Cyclone Idai in Mozambique in 2019.
CIP scientist and co-author Diego Naziri explained that after super-typhoon Durian hit the Philippines in 2006, the government supported Visayas State University's collaboration with CIP to distribute sweetpotato planting material to affected farming households, which facilitated access to food and income within months of the disaster.
Sweetpotato is increasingly being recognized as a climate-smart crop, but boosting resilience is just one of the ways it benefits rural families. While orange and purple varieties are important sources of pro-vitamin A and antioxidants, sweetpotato's quick maturity and high productivity make it an excellent food security crop. Gatto noted that it is especially important for female farmers across the tropics, because it is often cultivated in small plots and requires low levels of work and inputs to grow.
"In the Philippines, root and tuber crops such as sweetpotato are often grown in backyards and contribute directly to food and nutrition security, particularly in coastal and mountainous areas, which are considered the most vulnerable environments to climate change," observes Naziri. 
The study's results add to ample evidence of root and tuber crops' contribution to resilience, and the authors note that they are likely applicable to other countries plagued by extreme weather events, especially typhoons and tropical storms. They add that root and tuber crops' potential for helping farmers cope with or recover from such natural disasters is too often ignored and needs to be recognized and exploited for the benefit of vulnerable farming communities in regions at high risk of climate shocks. Studies have determined that the Philippines is one of the countries most at risk from climate change, hit by an average of 20 tropical storms and typhoons each year. 
"A stronger focus on how crops can mitigate (climatic) shocks is needed. Governments, national agricultural research systems, and the international community should do a better job of informing farmers, development practitioners and policy makers of what works," observes Gatto. 
"Research on root and tuber crops is underfunded, compared to cereals, pulses and other commodities" adds Naziri. "It is important to make government and funders aware of their potential in a climate changing world."  
Read the full article in the International Journal of Disaster Risk Reduction